Air pollution is a killer and a life changer, but quick to control; we can reduce both particle emissions, & invisible toxic emissions this year. Clean Air is expected in Bromley. Clean Air benefitted us in during April 2020. Low traffic resulted in bird song, exercise outdoors and conversation with our neighbours. Increasing our physical activity reduces dependency on cars. 30% cleaner air by 2030 will result in savings of £1.8 billion.
Healthy Streets uses nine indicators to measure the health of our streets and show what great work has been done with most schools involved, and most adults walking each week. Green Party propose that we have a cabinet member for Sustainable transport, Environment and Clean Air. We will promote new targets to 'Clean Air Act' by including Carbon literacy & sustainability in all trade qualification specifications. To achieve WHO standards for clean air we need relevant monitoring including a monitor in Mottingham so we realise the extent of invisible pollutants which not only cause death and respiratory diseases, but PM2 may be implicated with neurological diseases like dementia and Parkinsons. Bromley's Air Quality Management Area includes Crystal Palace, Penge, Copers Cope, Plaistow, Clock House, Eden Park, Shortlands, & Bromley town. As the effects of aircraft emissions on air quality are difficult to monitor environmental review needs to be certain that emissions at Biggin Hill are reducing. Our elders and youth deserve clean air, we can provide support and rewards for those able to travel actively and or use public transport, education and support to avoid burning in Bromley, and to being diesel free.
See our Air Quality Plan to improve Public Transport, Walking, Cycling, Wood burning, Low traffic neighbourhoods, diesel free, waste reduction in Bromley.
Bromley Green 7 Point Clean Air Campaign
1 Public transport  
Bromley commuters deserve lower train fares so that all workers can afford to use the rail network. The green party will lobby TFL for flat train fares as we have bus fares across London. Parking charges to reflect public transport prices will mean its cheaper for individuals to use public transport. Parking charges need to cover the cost of pollution caused.
2 Walking 
The green party supports local provision of services for most residents this requires strategic continous walking routes across the borough with increases in pavement width and levelness.
3 Cycling 
The Green London Manifesto keeps pavements for walking and wheeling, keep cyclists safe by enforcing cycle lanes throught the use of cameras. 
4 Wood burning
The Green party will enforce statutory clean air zones stopping illegal wood burning and investigating extending the clean air zone along main routes.
5 Low traffic neighbourhoods 
More 20 mph speed limits with enforcements outside schools and in places of need - which will mean cleaner air. 
6 Diesel free 
Carbon road pricing will encourage businesses to choose vehicles using green energy before the ULEZ across London by 2030  as modelled by council operations becoming diesel free by 2025
7 Waste reduction strategies 
Reduce need for incinerators to replace land fill means no transporting of waste.
We also support other organisations that campaign against air pollution, for example Mums For Lungs campaigns and their election asks
SAFER STREETS ROAD SAFETY CAMPAIGN
Initiated by Ruth Fabricant & Geoff Allen. Sign our petitions!
We and other Green Party activists will be out and about with our petitions- or alternatively sign online!
Geoff Allen is a Penge resident, standing for Penge & Cator ward. Geoff travels by public transport and is a keen cyclist, using his car for emergencies and occasional use.
Ruth Fabricant is a Beckenham resident standing for Beckenham Town & Copers Cope ward. Ruth is a non-driver who enjoys the excellent bus routes in the area and trains into London, the countryside and the coast.
       AIMS
To improve road safety for children, teenagers, and adult pedestrians, cyclists and drivers.

To enable more children to take the healthier option of walking to school by providing a safe walking route. This will reduce emissions and congestion from 'school run ' cars during peak times. Passengers in cars also inhale dangerous fumes. The number of children suffering from asthma is steadily rising.
           WHAT WE AS GREEN COUNCILLORS WOULD BOTH CONTINUE AND INTRODUCE: -
Lobby TFL for better bus services in the south of the borough;

More 20 mph zones with enforcements outside schools and in places of need suggested by residents. Our last petition gained 640 signatures and helped gain more 20 mph zones in the borough.

We will reintroduce crossing guards for ALL Bromley borough schools

Zebra Crossings in places of greatest need eg along school walking routes and where elderly and disabled people regularly cross.

We will make cycling safer for everyone, from a child to an older person visiting friends on an e-bike, disabled person hand cycling to work, and for family days out.

We will introduce more courses for older cyclists and beginners and draw awareness to the new Highway Code by posting on billboards.
Contrary to myths, the Green Party are not against people owning cars-we just advocate driving less and taking advantage of our generally good transport systems!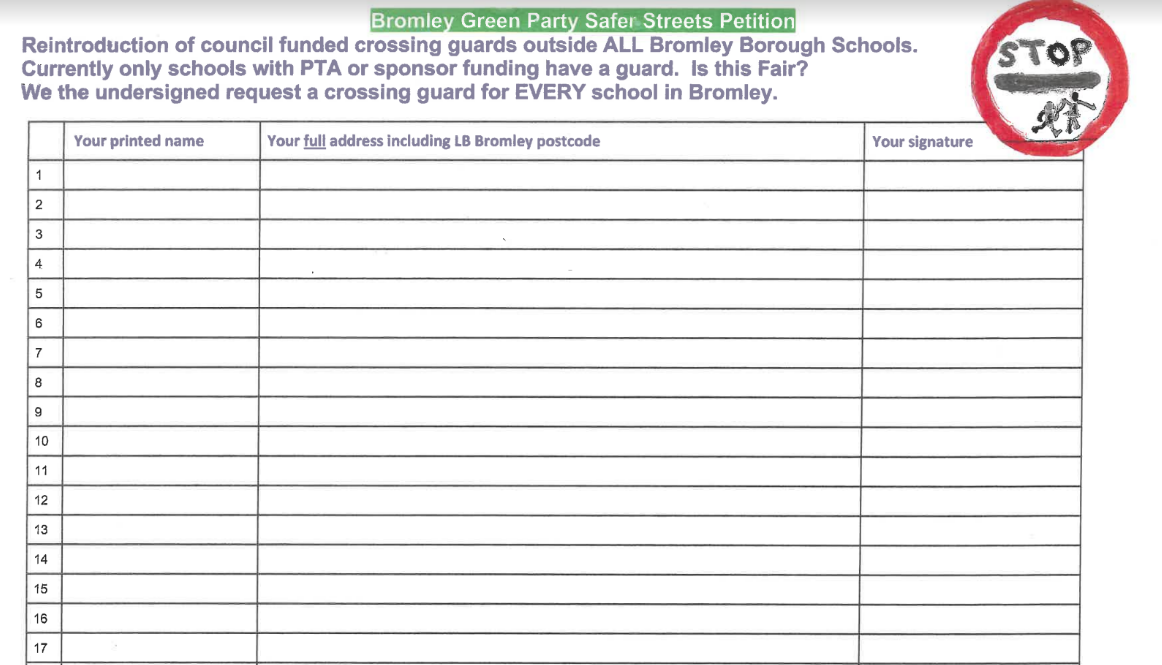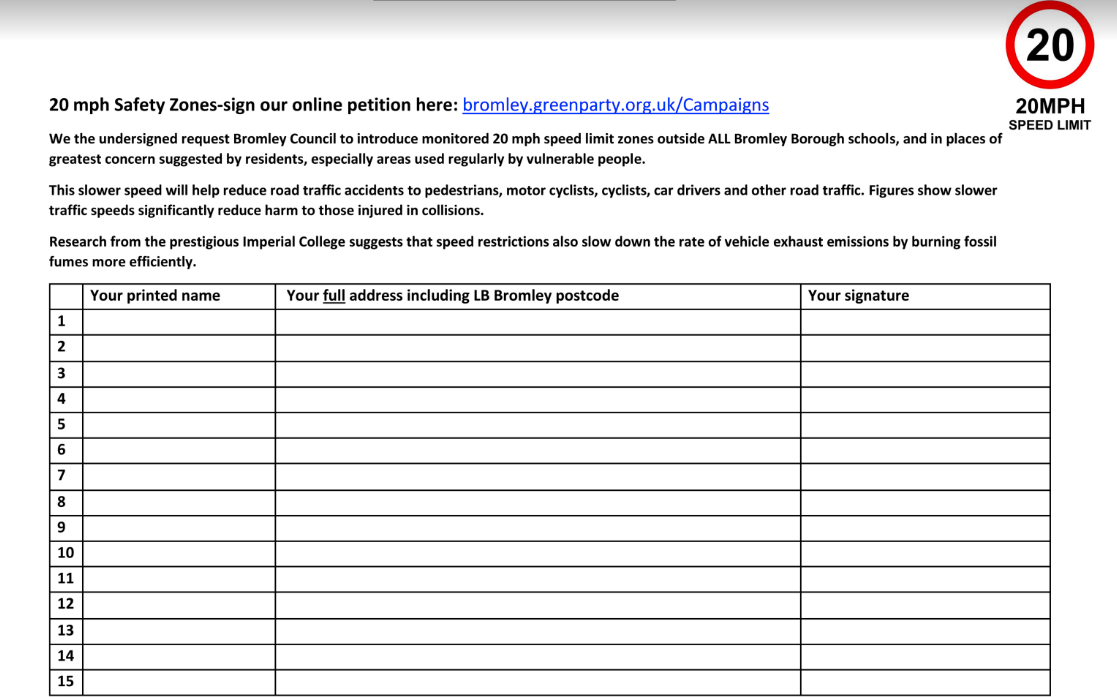 Other campaigns and groups that we support
Our members are active in Bromley Friends of the Earth, Bromley Cuts Concern, Bromley Against FrAcking, Bromley Peace Council, Bromley Civic Society, Bromley CND, Bromley Greenpeace, Extinction Rebellion, the Save Our Local Hospitals campaigns and Peace One Day.
Bromley Green Party members took part in an Extinction Rebellion event at Bromley Civic Centre on 29th August 2020 where children's shoes were displayed, symbolising their lost futures due to climate change. The photo shows a small group at the end of the sit in outside Bromley Civic Centre.